Steamship William G. Mather Museum, The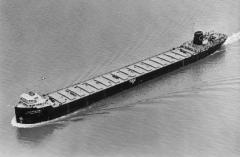 The William G. Mather is a retired Great Lakes bulk freighter. She was built in Detroit by the Great Lakes Engineering Works, River Rouge, Michigan in 1925 as the flagship for the Cleveland-Cliffs Iron Company. The Mather remained the Cliff's flagship until the Edward B. Green (now the Kaye E. Barker of the Interlake Steamship Company fleet) was built in 1952. She remained an active part of the Cliffs's fleet until the end of the 1980 navigation season.
In 1985, Cleveland-Cliffs sold its two remaining operating steamers to Rouge Steel Company, and gradually sold off its idle vessels until only the Mather remained.
After she was brought to Cleveland in October of 1988 and funding acquired from local foundations, corporations, and individuals, restoration began. In October 1990, she was moved to her berth at the East Ninth Street Pier on Cleveland's North Coast Harbor, and work continued. On September 24, 2005 the Mather was moved to a new location just north of the Great Lakes Science Center at Dock 32.