Storey County Courthouse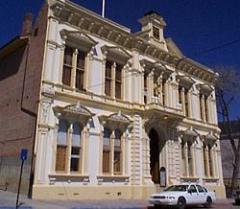 The Storey County Courthouse was built in the high Italianate style that embodies 19th-century ideals of decorative opulence as well as law and order. The first county courthouse was destroyed in the Great Fire of October 1875. Reconstruction began in 1876 and the present building, designed by the San Francisco architectural firm of Kenitzer and Raun and built by contractor Peter Burke, was completed in February 1877. The total cost of construction, including fixtures and the jail, was $117,000, a remarkable sum even for the Comstock boom years. A life-sized figure of Justice stands as sentry at the entrance, but she is not blindfolded, a rare occurrence in our national symbology. The façade of the building was decorated with elaborate ironwork, painted contrasting colors, and a pediment that included the date of construction, 1876, also the national centennial.
Far exceeding the cost of its counterparts, the building served the state's richest community. Ironically, the county built the courthouse at a time when the boom economy of Virginia City was on the verge of collapse. Perhaps due to the inevitability of a downturn, local leaders rebuilt their town following the devastating 1875 fire in grand style. The Storey County Courthouse remains a vivid example of this community's rebirth in the face of economic decline. A portion of its restoration was funded through a grant from the National Park Service's Historic Preservation Fund.