Student Museum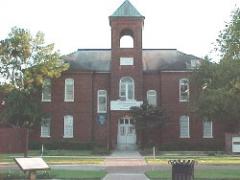 The Student Museum offers Seminole County Public School students a unique learning opportunity in the oldest school building in continuous use in Seminole County and the fourth oldest school in continuous use in Florida. In 1984 the building was placed on the National Department of the Interior.
The 1902 Romanesque Revival Style brick building was designed by Architect W.G. Talley of Jacksonville . The two story rectangular brick façade is dominated by a massive three-story bell tower with an open belfry showing Romanesque arches on all four sides. Two symmetrical one-story wings, designed by Sanford architect Elton Moughton, were added in 1916. The building's exterior features decorative corbelling, string-and belt-courses, and recessed round arched entryways. The building is one of the few surviving examples in Florida of turn of the century school architecture. The school overlooks a park donated by the area's pioneer developer, General Henry Shelton Sanford. George Touhy Park is home to Sanford 's famous and historic tree grove. Many of the trees here are seedlings of historic trees from around the nation.
The school opened in 1902 as Sanford High School . With the construction of a new high school in 1911, the building was renamed Sanford Grammar. Sanford Grammar served public school students through the year 1984. At that time, the mission and name changed-the facility became the Student Museum and Center for the Social Studies.
The Student Museum and Center for the Social Studies is supported and operated by the Seminole County Public Schools as an interpretive center and teaching museum. The instructional programs are student oriented and engage participants in specific hands-on activities designed for integrated learning in an historic setting.