Submerged Heritage Preserve Program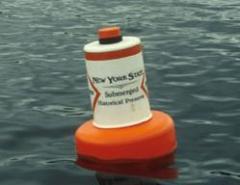 Marked by buoys and open to divers are seven of the 900 bateaux used during the British attack on Fort Carillon in the summer of 1758, as well as the 50-foot-long radeau Land Tortoise, the oldest intact war vessel in North America.
From 1755 to 1763, Britain and France fought in the French and Indian War. During the autumn of 1758, Lake George was a focal point for this struggle. One type of warship used by both sides in this conflict was the bateau (French for boat). Bateaux had flat bottoms, flaring sides and raked bows and sterns. They usually were propelled by oars and poles and steered by a stern sweep. Bateaux were typically 25 to 35 feet long. Built of pine planks with simple oak frames, bateaux could be produced rapidly and were widely employed in the eighteenth century for moving troops and supplies.
Whenever possible, Colonial armies moved via water to avoid marching through dangerous and roadless wilderness. As many as 900 bateaux were used against French-held Fort Corillon (later named Fort Ticonderoga) in the summer of 1758. Some 260 bateaux reportedly were sunk in Lake George in the autumn of 1758 to seal them under winter ice and prevent their capture or destruction by French forces.
Seven of eight bateaux at the preserve site are part of the "Sunken Fleet of 1758." The eighth bateau, the southernmost one, is a replica built by local school children and teachers. In 1997, the 23-foot replica bateau was sunk near the site to enhance the preserve visit for divers, to test Colonial sinking techniques and to study the deterioration process of a wooden vessel in a freshwater environment.