Tennessee State Capitol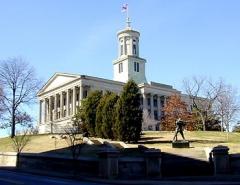 The Capitol, still in use by state government, features numerous works of art, historical murals and frescos, portraits, massive chandeliers, the House and Senate chambers and library, and the Governor's Office. The grounds include the tomb of President and Mrs. James K. Polk, the famous equestrian statue of President Andrew "Old Hickory" Jackson, hero of the Battle of New Orleans, and statues of President Andrew Johnson (also governor and military governor) and Sam Davis, "Boy Hero of the Confederacy," World War I hero Sgt. Alvin York, and Senator Edward W. Carmack.
During the Union occupation of Nashville (1862-65), the Capitol was tranformed into Fortress Andrew Johnson. The artillery located here never had to be fired in battle, but were used for drills and celebrations.
The interior of the capitol is a match for the exterior in elegance and refinement. Worth mentioning is Strickland's extensive use of cast iron, an avant garde building material in the 1840s. The exterior is made of limestone.