Texas And Pacific Railway Museum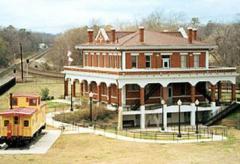 The museum is housed in the recently restored Texas and Pacific Railway Depot (built in 1912). A short handicapped accessible tunnel under two sets of tracks, leads to the AMTRAK waiting room and entrance to the museum. The surrounding grounds are attractively landscaped and feature an old Union Pacific Railroad caboose.
The museum is dedicated to the memory of thousands of former Texas and Pacific Railway employees and the important role they played in the economic development of Marshall and the State of Texas. It is replete with photos and artifacts dating from the 1870's. Exhibits include a replica of an old railroad agent's office complete with an old typewriter, electric fan and a working telegraph key. There is a 1920's era panoramic photo of the entire commercial and industrial area featuring the vast Texas and Pacific Railway shops. Another display includes working model trains that wend through models of historic Marshall buildings. The story of the T & P hospital, located in Marshall and serving the entire system, is told.