Texas Maritime Museum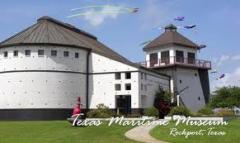 The Texas Maritime Museum houses a variety of permanet exhibits that strive to tell a complete story of Texas' maritime history.
At the Texas Maritime Museum, exploration and settlement is told through the La Salle Odyssey and an exhibit focusing on the development of maritime communities such as Indianola. The Age of Steam exhibits on of the reason these maritime communities developed. Oil and Gas exploration is a vital resource for the Texas Coast and Gulf waters. The museum explores the technology used in the extraction of petroleum from waters several feet to several thousand feet deep. The exhibit features an interactive kiosk and a scale model of Bullwinkle, the largest offshore drilling platform in history.