Texas Pharmacy Museum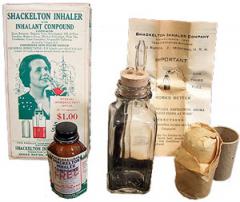 Opened in 1998, the Texas Pharmacy Museum is the only museum in Texas specializing in the collection, preservation, research, and exhibition of the history of pharmacy. As one of only 18 museums affiliated with pharmacy colleges among the over 140 pharmacy museums in the U.S., it is a unique educational resource. In 3,000 square feet of exhibit space located in the basement of the Texas Tech School of Pharmacy building on the Amarillo campus, there are rooms displaying a restored early 20th century pharmacy, tools of the trade, pharmacy products and delivery systems, pharmacy literature and art, sidelines, and a room honoring Texas practitioners. Artifacts and other items have been donated from 34 communities in Texas and from six other states; there have been 130 different donors to date; and the total collection numbers over 11,000 items.
The Curator provides guided tours for the public Monday through Friday between 1:00 - 4:00 p.m. and at other times by appointment. Student Services and Public Information staff members also provide museum tours. All applicants for admission are shown the museum during their interview, and all members of incoming pharmacy classes are introduced to the museum during Boot Camp orientation. The TPM is also an integral part of the School of Pharmacy curriculum, serving as a museum/laboratory for the students, faculty, and staff and providing artifacts and resource material for an annual P3 elective History of Pharmacy course taught by the Curator.