Thompson Historical Society & Museum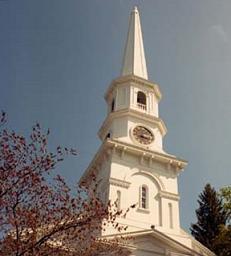 In 2005 and 2006, the museum was expanded, including a 20 panel permanent display area on Thompson's 10 Villages. A wonderful exhibit, by Mary Ellen Tomeo and Sue Vincent, based on the lives of 5 generations of the Ballard-Dalton-Eddy-Chase family members from Chase Road in Thompson, opened on Walking Weekend '06. The Walking Weekend tours by David Babbitt in North Grosvenordale and by Joe Iamartino on Thompson Hill were well received. Interviews and transcriptions continue as the society embarks on a mammoth 150 interview transcription process for the 2007-2008 year.
Many people, unmentioned, have contributed to the society in a variety of ways. Volunteers in the museum shop, archivists cataloging artifacts and documents, tour guides leading historical walks, presenters of historical programs, people collecting old photos, membership coordinators, accountants paying the bills, web designers working on our website, designers creating unique products for sale in the museum shop, specialists working on restoring the buildings are all part of the society. While too many to mention by name, it is through their efforts that the society has prospered through the years.