Topaz Relocation Camp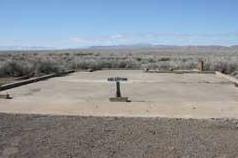 War time hysteria caused the relocation of 120,000 Japanese Americans to be relocated to one of ten inland camps. An inscription on the monument commemorating the Topaz Camp states "without hearings or trials, this act of injustice is based solely on the color of their skin and the country of their origin". Continuing, the plague states "America's fear and distrust of these citizens precipitated by Japan's attack on Peal harbor is placated".
The Topaz Camp was spread out over 20,000 acres with armed watch towers constructed every quarter mile around the perimeter. The facility included barracks, community dining halls, laundry rooms and latrines. There were schools, a hospital, a post office, stores, industry and some limited recreational opportunities provided for them. During the war many young Japanese volunteered to fight from these internment camps. The 442nd RCT and 100th Battalion made up of entirely young Japanese Americans suffered major war casualties and go on to become the U.S. Army's most highly-decorated combat unit in it's history.
Today the only remains of the Topaz Camp are isolated concrete pads spread out over the desert and hidden amongst the sage brush. As you explore the area small signs mark some of the concrete pads such as the Fire Station, and the Hospital. This area is considered an Historic site so please don't remove any artifacts you may find and please obey the signs.