University Of Alaska Museum Of The North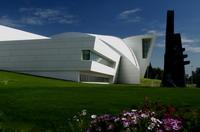 This museum is a premier site for understanding Alaska's natural and human history, but also for exploring the history of the Norther region and engaging in cutting edge research.
The museum's research collections – 1.4 million artifacts and specimens – represent millions of years of biological diversity and thousands of years of cultural traditions in the North. The museum serves as a valuable resource for research on climate change, genetics, contaminants and other issues facing Alaska and the circumpolar North. The museum is also the premier repository for artifacts and specimens collected on public lands in Alaska and a leader in northern natural and cultural history research.