Updike Farmstead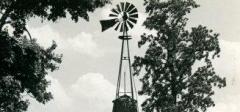 In 2004, the Historical Society of Princeton acquired the historic Updike Farmstead in Princeton Township. The farm is along the route followed by Continental troops on their way to engage British soldiers at the neighboring Thomas Clarke farm at Princeton Battlefield.
Benjamin Clarke, an original Stony Brook settler, first owned the land as part of a 1200 acre parcel he purchased in 1696. The property remained in the hands of his descendents for over 150 years. George Furman Updike acquired the farm in 1892. The Historical Society purchased the remaining six-acre farmstead from his family. Funding assistance came from the New Jersey Green Acres Program and the Mercer County Open Space Preservation Board.
Plans for rehabilitation of the farmstead buildings and their adaptive reuse (including collections storage and staff offices) and placement of interpretive signage for public tours of the property are in development by the Historical Society and Watson & Henry, an internationally recognized architectural firm. Acquisition of the farmstead allows the Historical Society to expand Bainbridge House capacity for exhibitions and will grant greater access to its collections both on view and in storage. Bainbridge House and the Updike Farmstead together will help tell the stories of Princeton Borough and Princeton Township.