U.S. Army Women's Museum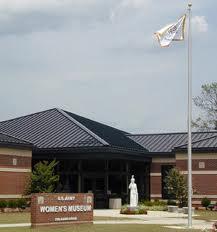 This museum, located at Fort Lee, traces the history of women in the military and military nurses from the American Revolution to the present, including the advent of the WACS in World War II.
The museum opened on 14 May 1955 at Fort McClellan, Alabama as the Women's Army Corps (WAC) Museum. It was first located in one room of the WAC Headquarters building. Shortly thereafter, it was relocated to a wing of the WAC Training Battalion headquarters building at the WAC Center, Fort McClellan. In 1977 the WAC museum moved to a new building on Fort McClellan that was built entirely by private contributions raised by the WAC Foundation.
On 18 August 1961, the WAC Museum was renamed the Edith Nourse Rogers Museum in honor of the Congresswoman from Massachusetts who introduced bills in 1942 and 1943 which established the Women's Army Auxiliary Corps (WAAC) and later the WAC. The decision was made in 1977 to return to the original title of the Women's Army Corps Museum. This was done to reestablish the connection between the name of the museum and the artifacts it housed.
In 1997, Congress announced that Fort McClellan would close on 30 September 1999. Fort Lee, Virginia was chosen as the new home of the Women's Army Corps Museum, now known as the U.S. Army Women's Museum. Fort Lee has significant historical ties to the Women's Army Corps. It was the home of the first regular Army WAC Training Center and School from 1948 to 1954.
The groundbreaking for the current museum was held on April 9, 1999 and construction was completed in October 2000. This was followed by the installation of new exhibits and the dedication of the museum on 11 May 2001. The biennial Army Women's Reunion was held in conjunction with this event.