U.s. Navy Supply Corps Museum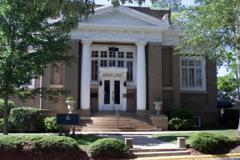 The U.S. Navy Supply Corps Museum, housed in the historic c. 1910 Carnegie Library building in the center of the Navy Supply Corps School campus, is one of only eleven official U.S. Navy museums. It stands as a tribute to the men and women of the Supply Corps, the professional business managers of the Navy.
Displays include their namesake ships - the USS SUPPLY (past and present); artifacts from the USS MAINE of Spanish-American War fame; an 1841 purser's uniform; WWII-era memorabilia from NSCS-Harvard; galley gear and messing equipment; disbursing materials; and ship models.
The museum archives houses vintage manuals, cookbooks, newsletters, scrapbooks, photographs, directories, command histories, yearbooks, and curriculum materials.
Gardens adjacent to the museum provide the grace of a southern gazebo complete with benches, fountains, and a Japanese bridge spanning a small stream.