Uss Alabama Battleship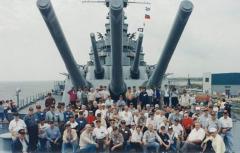 Displacing more than 44,500 tons, the USS ALABAMA measures 680 feet from stem to stern, half as long as the Empire State Building is tall. Armed with nine, 16-inch guns in three turrets and 20, 5-inch, .38-caliber guns in 10 twin mounts, her main batteries could fire shells as heavy as a small car accurately for a distance of more than 20 miles.
Her steel side armor was a foot thick above the waterline, tapering to one half inch at the bottom. Her four propellers, each weighing more than 18 tons, could drive her through the seas at up to 28 knots, more than 32 miles per hour. Loaded with 7,000 tons of fuel oil, her range was about 15,000 nautical miles. The USS ALABAMA was built to fight.
By early 1942 the USS ALABAMA was desperately needed. The Allies had their hands full against the Axis powers in the Atlantic. In the Pacific, the United States was embroiled in a bloody slugfest with Japan, and was still reeling from the Dec. 7, 1941 disaster at Pearl Harbor. The USS ALABAMA saw 37 months of active duty during World War II, earning nine Battle Stars. The "Mighty A" as she came to be known, safely carried her crew throughout the Atlantic and Pacific Ocean campaigns, and never suffered any casualties or significant damage due to enemy fire. After the war, she was mothballed on Puget Sound at Bremerton, Wash., in 1947.
On Jan. 9, 1965, the "Mighty A" was opened to the public as an independent agency of the state of Alabama. Since then, more than 13 million visitors have trod her decks and stood in awe of her majestic presence. The submarine USS DRUM, a World War II veteran with 12 Battle Stars, joined the USS ALABAMA on July 4, 1969.
History meets heroism, from World War II to Iraqi Freedom, at one of America's finest military parks. Here at Battleship Memorial Park guests can walk the decks of a mighty battleship. Go below in a World War II submarine. View cockpits of combat aircraft, tanks, a Vietnam River Patrol Boat, and a plane like the one flown by the Tuskegee Airmen.