USS Constellation Museum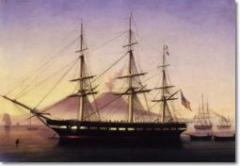 The last all sail ship built by the U.S. Navy, and the last Civil War-era vessel still afloat, the USS Constellation is now open as a museum in Baltimore's Inner Harbor.
Launched in 1854 out of the Chesapeake Bay, the vessel served her country for 100 years before finally being decommissioned in 1955.
Prior to the Civil War, the Constellation's main purpose was intercepting slave ships. With the onset of the war, it was charged with chasing Confederate raiders. At the end of the 19th century, it served as a training ship for midshipmen at the Naval Academy.
Today there are a wide range of activities and demonstrations to illustrate what life was like aboard the vessel as a part of Historic Ships in Baltimore.