Uss Lucid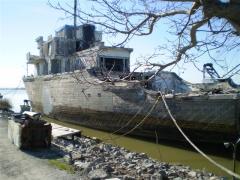 The second Lucid (AM-458) was laid down by Higgins Inc. Shipyard, New Orleans, La., 16 March 1953, and launched 14 November 1953.
After a shakedown in the Caribbean, Lucid sailed for the Pacific, arriving at Long Beach 22 August. For the next 13 months, she performed mine warfare exercises on the west coast, then sailed on her first western Pacific tour 1 October 1958. During the period 1956 to 5 November 1963, Lucid sailed on four WestPac cruises and while there performed operations with the mighty 7th Fleet. In addition to exercises with the 7th Fleet, the minesweeper participated in good will programs in the countries she visited. The time between WestPac cruises was spent in mine countermeasure exercises off the southern California coast.
Throughout 1964 Lucid continued training exercises off the west coast, then departed Long Beach 5 April 1965 on her fifth WestPac cruise. Arriving Subic Bay, Philippine Islands on 24 May, she prepared for operation "Market Time" off the coast of Vietnam. From June to October the minesweeper continued patrol and surveillance of Vietnamese Junk traffic. She boarded a total of 186 Junks and steel-hulled ships, and contributed to a reduction of enemy infiltration of men and supplies by sea. Lucid returned to Long Beach on 14 December and operated off the southern California coast until May 1966 when she commenced overhaul at Harbor Boat Building Co., San Pedro, Calif.
In October 1966, having completed her overhaul, Lucid prepared for another WestPac deployment. She departed Long Beach on 6 January 1967. Lucid served once again with the Market Time forces, performing surveillance and search duties, as well as hunting mines in the harbors of South Vietnam On 16 October 1967, she departed Subic Bay, homeward bound after a long but rewarding deployment, arriving at Long Beach on 18 November. Following a brief overhaul period and refresher training, she sailed for WestPac 1 April. Along with patrol duty off the Vietnamese Coast and upkeep periods at Subic Bay and Singapore, Lucid conducted minesweeping exercises with Allied Navies returning to Long Beach. In mid-October, the minesweeper began a yard period where she remained into 1969. Lucid was stricken 15 May 1976 and disposed of by Navy sale in November of that year.