Valley Forge National Historic Park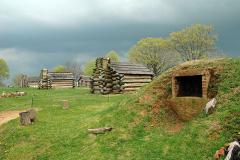 One of the most famous sites of the Revolutionary War, the name Valley Forge is synonymous with hardship.
Washington's troops endured freezing conditions, disease, and scarce food during their winter encampment, only to push through and rout the British in the following years.
Established in 1893, Valley Forge was Pennsylvania's first state park and it remains one of its most popular.
Aside from the restored buildings like Washington's headquarters and typical soldiers' quarters, there is a memorial chapel and a monument to those lost at Valley Forge.
The park is also surrounded by nature trails that are popular for hiking and biking and rivers teeming with fish.