Vulcan Park And Museum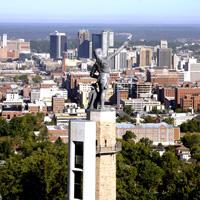 Visitors can experience the area from Vulcan's view or tour Vulcan Center Museum to learn Birmingham's past, present and promise for the future.
Vulcan Park and Museum is operated by Vulcan Park Foundation, a non-profit organization with a mission to preserve Vulcan as a symbol for Birmingham, provide a dynamic educational experience in a public park setting, and serve as the gateway to the region.
The history of Vulcan is deeply tied to Birmingham's roots and its growth into a prominent industrial city. Vulcan, the Roman god of fire and forge, was originally built in 1904 and has stood as a symbol of Birmingham for over 100 years. After a four-year renovation, Vulcan Park reopened to the public in 2004 and welcomed over 100,000 visitors its first year. Vulcan Park and Museum is home to the world's largest cast iron statue and features spectacular panoramic views of Birmingham.