Wessels Living History Farm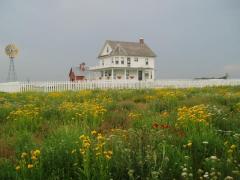 The Wessels farm brings to life the realities of farming in the 1920s and gives a history of change that has occurred in agricultural technology during the 20th century.
The 145 acre physical site includes a house that David Wessels and his brother lived in for a period of time when they moved to town. It's typical of farm architecture of the early 20th Century. The house was donated to the Living History Farm project by York College and moved to the physical site in 2002. The site also includes a barn donated by Bill Peters of Shelby, Nebraska. The red, timber frame giant reflects barns typical of the 1920's, the era chosen for the Living History Farm to interpret. In the future, an event center may hold offices, meeting places, and displays. The physical site brings to life the history of agriculture for local visitors. The Web site spreads that message to the world.
In the future, the farm could grow in numerous ways. The site is viewed by the Wessels Corporation as a "living project" on a "journey" reflecting the continuing role those involved with agriculture play as they provide nourishment to the world.