Weston Historical Society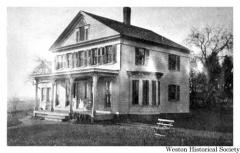 The Weston Historical Society was formed in 1961. It already held a substantial backlog of history to investigate, record and preserve. It was in 1671 that the forest land which is now Weston was marked off in long narrow divisions called "long lots" by the early settlers of New Fairfield on the Sound.
Weston officially became a town in 1787. Before that it was known as Norfield Parish and at that time what has become Easton and Weston was one area, but because of geographical and transportation problems of the day had difficulty functioning as a community. The region was primarily devoted to farming but water power from the several branches of the Saugatuck River were soon put to use for driving grist mills, saw mills and, in the 1800s, for small industrial uses.
In 1983 Mrs. Cleora Coley gifted her home at 104 Weston Road in memory of her late husband James Sturges Coley to the society. In 1986, in preparation for the town's Bicentennial, The Weston Young Woman's Club approached the society to help fix up the house. With the help of the Woman's Club and members of the society, new wallpaper was hung and new paint was applied. Later a committee, headed by Pat McLaughlin, took old pieces from the homestead, as well as donated pieces, and decorated the interior four rooms to resemble an 1850s farmhouse.