Williamson County Archives Museum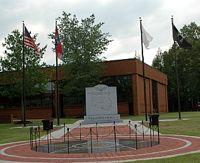 The Williamson County Archives Museum preserves the history of Franklin and the surrounding area.
American settlers filtered into the Tennessee area throughout the 1700's, pushing the Indian boundaries further south and west. Williamson County became a well-known crossroads on the great Western Movement of the American people. Many researchers can trace their ancestry here for a generation or more before continuing on to the western country.
The Williamson County Archives was created in 1993 by the Williamson County Commission to serve as a repository for all official records of Williamson County, though its treasures extend well beyond that.
The Archives museum includes a series of showcases of Williamson County history beginning with Native American artifacts, long hunters, the formation of the county, the partitioning of the Town of Franklin, and further on until present day.