Winter Garden Heritage Museum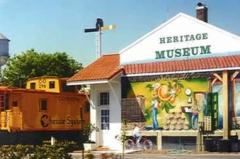 Native American artifacts attest to the extensive civilization that existed here before the arrival of Europeans, while railroad memorabilia fast-forwards to the development of a comprehensive United States transportation system on the peninsula.
The Heritage Museum, a wonderful three-dimensional walk through Winter Garden's glorious past! Established in 1998 and housed in the 1918 Atlantic Coast Line Depot in downtown Winter Garden, includes a large collection of local citrus labels, Native American artifacts, photographs, and railroad memorabilia dating from the days of pioneer settlement to the present in West Orange County. The museum is also a repository for the archives of the history and restoration of Lake Apopka, one of the largest lakes in the State of Florida.