Woodrow Wilson Family Home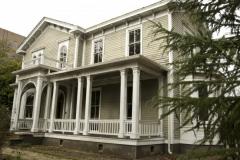 In this house, Wilson's father, Dr. Joseph Ruggles Wilson, and his mother, Jeannie Woodrow Wilson, raised the young man who would come to hold the United States executive office and guide the nation through World War I as the first modern world statesman.



Standing at the southeast entry to the Robert Mills Garden District the Woodrow Wilson Family Home is a tangible link to the watershed Reconstruction era. Its history is embedded in the story of a southern community struggling to rebuild following the Civil War.



At this historic site, experience From Dreams to Visions and Hopes to Purposes: Woodrow Wilson and Columbia, which addresses the Reconstruction era environment; the development of Thomas "Tommy" Woodrow Wilson from boy to man; and the historic preservation movement as experienced in South Carolina's capital city.
The Woodrow Wilson Family Home is part of Historic Columbia Foundation.
Please note: The Woodrow Wilson Family Home is currently under renovation.  Click here to read more about plans for the rehabilitation.