World War II Memorial National Historic Site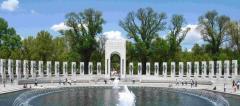 The National World War II Memorial commemorates the sacrifices and celebrates the victory of the of the WWII generation.
The memorial was completed and dedicated in 2004 and is located on The National Mall between The Washington Monument and The Lincoln Memorial. WWII involved the efforts of the whole country and the memorial pays homage to the soldiers and to the millions of others who supported and contributed to the historic military campaign. Friedrich St.Florian's winning design balances classical and modernist styles of architecture, harmonizes with its natural and cultural surroundings, and connects the legacy of the American Revolution and the American Civil War with great crusade to rid the world of fascism.