Wren's Nest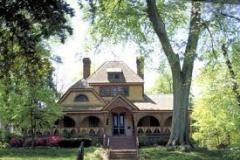 On the front porch of this Queen Anne Victorian home, Joel Chandler Harris penned many of the Brer Rabbit tales.
Atlanta's oldest house museum, Wren's Nest was the home of author Joel Chandler Harris from 1881 to 1908. The house was named after the wrens that made a nest in the mailbox. Today the home features most of the Harris family's original furniture and belongings. Harris' wife kept the author's bedroom intact after his death, and it remains untouched to this day, aside from dusting and the occasional changing of the bed linens.
Harris' fame as a result of the popularity of the Brer Rabbit tales made him a reluctant celebrity in his day. Harris was second in literary fame only to his good friend and admirer Mark Twain. Theodore Roosevelt visited the home during his trip to Atlanta, and his gift to Harris, a stuffed owl, can still be seen looking down on the family's library.