Wyckoff House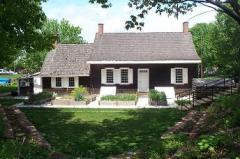 Its history exemplifies the diversity of Brooklyn's colonial farms, where Dutch-American landowners, enslaved and freed Africans, and later European immigrants labored on some of the country's most fertile land.
Pieter Claesen Wyckoff, an illiterate teenage farm laborer, arrived in the New Netherlands in 1637. After serving his indenture to the van Rensselaer family, he and his wife, Grietje van Nes, settled in the village of Nieuw Amersfoort (modern East Flatbush-Flatlands, Brooklyn) where Wyckoff became a successful farmer and magistrate. Today his and Grietje's eleven children have more than 50,000 descendants.
The Wyckoff Farmhouse typifies the vernacular farmhouse architecture of the Dutch-American farms of Brooklyn and Queens. Generations of Wyckoffs enlarged and altered the House and continued to farm the land until 1901.
Wyckoff descendants established the Wyckoff House & Association in 1937 and re-purchased the House from its last private owner in 1961. In 1965 the House became the first structure to be designated a New York City Landmark. The Association donated the House to the City of New York in 1969. Extensively restored, it opened to the public in 1982. Today the Museum's mission is to educate visitors about the diverse peoples of Brooklyn's colonial farms. Preservation efforts continue with the reconstruction of gardens, orchards, and the 200-year-old Wyckoff Durling barn.
The Wyckoff Farmhouse Museum & Education Center is owned by the New York City Department of Parks & Recreation, operated by the Wyckoff House & Association, and is a member of the Historic House Trust.