Wyoming State Museum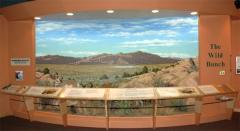 The museum begin with the natural history of the region. Developed in cooperation with the Wyoming Game and Fish Department, the Wild Bunch gallery acquaints visitors with some of the state's more common wildlife. The gallery Swamped With Coal also describes the geologic events in the distant past which created modern Wyoming's vast mineral wealth. The collection also contains some of the state's oldest fossil remains.
Some of the more artistic or popular pieces in the museum's collection are on exhibit in the Barber Gallery. Highlights include firearms, Native American beadwork and baskets, and a 1950s diorama of Wyoming cowboys at work. In the hands-on history room, touchable reproduction artifacts, a chuck wagon, a curiosity cabinet filled with objects to examine, and a child-sized tipi are just some of the many features that bring Wyoming's history to life. Finally, the museum has a large interactive map that highlights archaeological sites, mountain man rendezvous sites, trails, military forts, and military battles.