Yawkey House Museum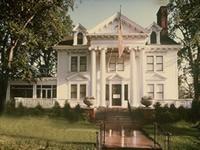 The house was built in 1900 - 1901 in the Classical Revival style for Cyrus and Alice Yawkey. Designed by the Milwaukee architects Henry Van Ryn and Gerrit de Gelleke, it features large ionic columns and a pedimented portico. Only eight years after the house was built, the Yawkeys hired George W. Maher to remodel. The first floor was completely remodeled, a two story addition was added to the back, and a sun porch was added to the east side of the house. In 1974, the house was placed on the National Register of Historic Places.
Originally from Michigan, the Yawkeys moved to northern Wisconsin in 1889 when Cyrus joined with his uncle and a business partner from the Yawkey and Lee Lumber Company. A town was founded by the venture and Alice Yawkey named it Hazelhurst due to the abundance of hazelnut trees in the area. Ten years later, in 1899, the Yawkeys moved to Wausau where Cyrus was the uncontested leader of the Wausau Group. The Wausau Group was composed of wealthy lumbermen who pooled their resources in hopes of improving Wausau's economy as the logging industry was dying in the area. They founded several businesses, utility companies and the first paper mill in the area (Wausau Paper Mills in Brokaw).
The Marathon County Historical Society also has several exhibits located in their offices, down the road at 410 McIndoe Street.  Admission to these exhibits is free, and the hours are the same as the Yawkey House's.