Yupiit Piciryarait Museum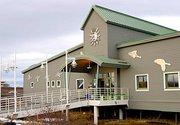 Located at the Yupiit Piciryarait Cultural Center in Bethel, Alaska, the museum highlights the history and culture of the Yup'ik/Cup'ik and Athabascan natives as well as other people living in the Yukon-Kuskokwim Delta region of western Alaska. Living in the region for over 12,000 years, the Yup'ik/Cup'ik Eskimos and Athabascan people did not encounter European explorers until a Russian expedition met the Yup'ik natives.
The Yupiit Piciryarait Museum houses approximately 2,500 photographs, artifacts, and works of art along with collections of civic records and audio recordings. The museum is working with local villages to improve its understanding of local oral history.