What happened at the Capitol on January 8th was decidedly not a peaceful demonstration gone wrong but a planned assault on democracy by a lame duck President determined to reverse the outcome of an election that he clearly had lost.
This horrifying spectacle occurred despite almost no evidence of fraud or conspiracy from state officials responsible under their state's laws for determining the accuracy of the vote count on Election Day in November, when Biden won a clear victory with 306 electoral votes, 36 more than the 270 required.
President Trump clearly committed a crime when he told the rioters gathered in his name in Washington that "if you don't fight like hell you're not going to have a country anymore.... because you'll never take back our country with weakness. You have to show strength and you have to be strong."
This is a clear incitement to violence which is a criminal act and must be punished if it is ever to act as a deterrent to lawbreaking by the losers in future elections.
From the unfortunate Election Day of 2016 that made Trump the President despite repeated evidence of his unfitness for the office during the campaign — the lies, the sneers, the evident contempt for the balance of powers among the three elements of the national government — executive, legislative and judicial — to lay a restraining hand on tyranny — the appalling calls to Trump's listeners to demand the actual imprisonment of the opposing candidate — these had no place in an American election.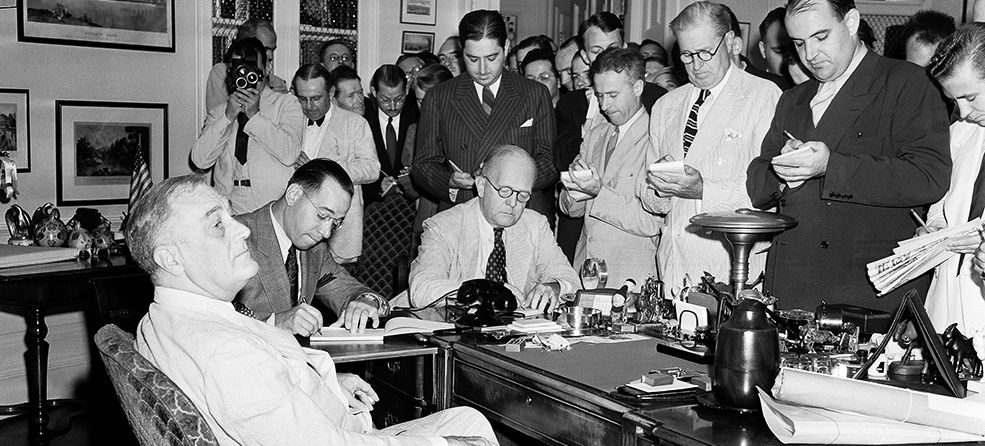 The American Presidency is, as Theodore Roosevelt said, a "bully pulpit" for getting the nation's ear in regular conferences with experienced journalists who can sift fact from fiction and let readers and viewers make informed decisions to persuade them to follow his lead, and TR himself as well as Franklin Roosevelt did so with unequalled skill, holding two conferences weekly with representatives of established journals of both parties for almost (all) of his years in office, an adversarial but not hostile relationship that for the most part both President and reporters enjoyed — that was leadership in action. 
But Trump's savage tweets and screams about the injuries he was enduring at the hands of the "fake news" were personal tantrums and did not deserve to be given an airing, and the media should have recognized and ignored that; instead they gave Trump precisely what he craved, an instigation to readers to see what the latest outburst would be and the wilder they were the more moronic and conspiracy minded extremist followers they pushed towards criminal acts.
The Trump years have unalterably diminished the stature of our nation as a beacon of the concept of freedom of one nation, indivisible, with freedom of religious choice, and liberty and justice for all.  
I hope its lasting impact will be as a tragic aberration and warning to future generations that eternal vigilance is and will always be the price of freedom