Baxter County Heritage Museum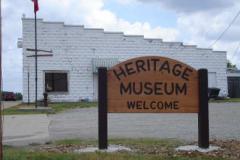 The collection of the Baxter County Heritage Museum includes the following: Historic school records from all 68 school districts in Baxter County, drawn from the office of the County Superintendent of Schools, which no longer exists; records from old stores; some court records; a Native American collection, including information on the Trail of Tears across Baxter County; a collection of railroad memorabilia; a collection of hospital equipment from Rollins Hospital; a collection of military uniforms and pictures of Baxter County military personnel.
The museum also boasts a large collection of genealogy book sand other materials from Baxter and Marion Counties, as well as records from many areas of the United States.
If you've lived in the area for any length of time, or if your ancestors are from Baxter County, you're sure to enjoy this eclectic collection of documents and objects. The museum also has a wide variety of genealogy and local history books for sale, as well as past copies of "The History," the quarterly journal of the Baxter County Historical and Genealogical Society. Museum staff are always happy to help with genealogical and historical research.