Columbia River Maritime Museum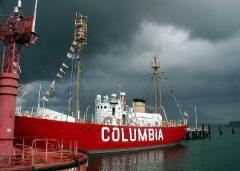 The Columbia River Maritime Museum was founded in 1962 when Rolf Klep, a native of Astoria, returned to his birthplace after retirement as a successful graphic artist on the east coast. Upon returning, Klep (a long-time collector of marine artifacts) and a group of his colleagues sought to establish a museum to preserve the rich maritime heritage of the entire Columbia River region - a museum of national distinction. Today the Columbia River Maritime Museum's national reputation for the quality of its exhibits and the scope of its collections makes it one of the finest maritime museums in the nation. It is also the first museum in Oregon to meet national accreditation standards, and has been designated the official state maritime museum for Oregon.
The Columbia River Maritime Museum celebrated its 40th anniversary and $6 million remodeling and expansion on May 11, 2002. The Museum renovation began in October 2000 and increased exhibit space to 44,200 square feet. The new space houses interactive exhibits that combine history with cutting-edge technology and numerous Museum acquisitions. Visitors of all ages will experience what it is like to pilot a tugboat, participate in a Coast Guard rescue on the Columbia River Bar, and live in Astoria during the height of salmon fishing. Huge windows make the Columbia River a living backdrop for exhibits that are interactive and touchable, many accompanied by interviews with people involved in the events depicted.