Colvin Run Mill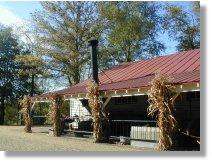 This late 19th century building once stood across Colvin Run Road from the mill. Storekeeper Mark Cockrill stocked general merchandise for the farming community of Colvin Run and for patrons of the mill. Today, examples of merchandise that would have been sold during the years the store operated, from the 1890s to the 1940s, are displayed on the top shelves and hung from the ceiling. The general store continues as a mercantile establishment, selling grain ground at the mill, "penny" candy and sundries.
Across from the general store is the barn and blacksmith shop built in 1970 during the restoration of the mill. Inside the barn is a scale model of Colvin Run Mill, faithfully reproduced to 1/24 scale by a dedicated volunteer. Barn exhibits include the tools of farmers and tradespeople who lived in the area at the turn of the century. Children especially love the hands-on history trunk with reproductions of items used at home, school and work. Visitors are also invited to explore the 1809 miller's house, home to the families who ran the mill. The walls of the 1811 mill are a combination of original and replacement brick. When the Park Authority acquired the mill, the wall on the waterwheel side was wood.
Archeological investigation found that the original wall, which was made of brick, had collapsed. A new brick wall was built to replicate the original wall. The putlog holes in the walls served as scaffolding supports during the construction of the old mill and were recreated in the new wall as they occur in the other walls. On the first and third Sundays, spring through fall, visitors can watch the miller grind wheat into flour or corn into meal. Call ahead to confirm that conditions permit grinding.