Edward Hopper House Art Center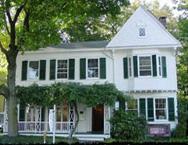 The house of Edward Hopper's youth was built in 1858 by the artist's maternal grandfather, John Smith. Smith's daughter Elizabeth married Garret Hopper in 1878 and the newlyweds moved into the house with Elizabeth's widowed mother. Marion, their first child, was born in 1880 and Edward, in 1882.
The exterior of the house and most of the interior were created in the style loosely called "Queen Anne." As you enter, the rooms on the left are part of the original house built in the Federal style, indicated by the classic simplicity of the mantelpiece, the faithfully restored plaster molding, and the wide floorboards. The room to the right, with a ceiling of polished wood and a tiled fireplace, was added in 1882 the year of Edward's birth. To the right at the back of the house was the kitchen. In 2000, the Edward Hopper Landmark Preservation Foundation received the distinction of being listed on the National Register of Historic Places.
Today's Hopper House is a community cultural center and gallery space for artists. The ground floor is a vibrant and exciting exhibition space that features juried theme shows and exhibits of emerging and established artists. The upstairs rooms are private artist studios, which are sometimes open to the public. In addition to a busy gallery schedule, there are classes and workshops for adults and children, summer jazz concerts in the garden, an annual Artists in the Park event, a monthly poetry workshop, an annual book fair, and special events – all made possible by an active and devoted membership and through the generosity of local sponsors and the New York State Council on the Arts.
Because the Edward Hopper Landmark Preservation Foundation was incorporated after Edward's death and his artwork was already dispersed, we do not have any original Edward Hopper works here at the Hopper House, We strive, however, to honor the artist's legacy and nurture the house as an important influence on his art throughout his life – views from his childhood, the play of light in various rooms, and nearby post-Victorian architecture were distilled into his art, creating the powerful moods in his paintings. A section of the house is sometimes dedicated to exhibits about Edward Hopper's life and career, and we have books, posters, note cards, and postcards of Hopper's work available for purchase.