Fairfield Heritage Association: Georgian Museum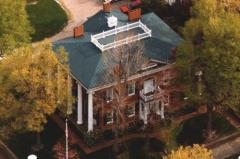 Located in one of Lancaster's three National Historic Districts, this outstanding example of American and Georgian architecture has Regency features, the most prominent of which is a double curved wall with bay windows along the two-storied west portico that is supported by five fluted Ionic columns.
Throughout the house twelve-foot high ceilings draw eyes upward to the beautiful woodwork, archways and chandeliers. An unsupported spiral stairway leading up three floors is highlighted at the top by a lantern light in the central gable.
Today, visitors enjoying a guided tour of this 13-room home will learn about the influential families who resided here and the early Lancaster community as it grew from a frontier town to a city.