Fairfield Heritage Association: Sherman House Museum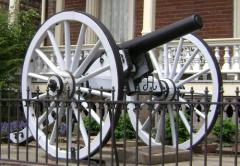 The original frame home built in 1811 consists of a parlor/dining room, kitchen, master bedroom, and children's bedroom. The Sherman Family's 1816 addition to the house included a parlor and study for the father, Judge Charles Sherman.
All of these rooms have been restored to look as they would have when the Sherman Family lived here. A brick addition was added to the front of the house in 1870, and this Victorian parlor features furniture owned by General and Ellen Sherman when they lived in New York City after his retirement. The parlor also features an 1888 bust of General Sherman by the gifted sculptor Augustus Saint-Gaudens. One upstairs bedroom houses family memorabilia, and another offers a re-creation of General Sherman's Civil War field tent including several items he used during the war, and a sound and light presentation depicting his passion for the Union. The last room houses an excellent exhibit, "Sherman at War," explaining his war story with artifacts, paintings, prints, maps, weapons, and GAR memorabilia.