Lyon County Historical Museum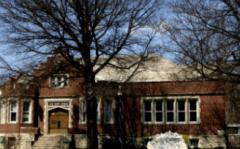 The Lyon County Museum and Historical Society was founded in 1937. The current Museum holdings include over 150,000 items of Lyon County history spanning from 1865 to the present.
Much of the settlement of Lyon County was made by immigrants from other states, as early as 1857 many Welsh were arriving, and they continued to come in large numbers through the 1880's. French, Swiss, and German settlers began coming in the 1860's, also. The Welsh came in the largest numbers, the Germans next, and the French third. The Welsh secured the bottom land whenever possible while the Germans took the high prairie land and made excellent farms of this land. This same land, only a decade or two earlier, had been condemned as worthless.
The first road in Lyon County was the Santa Fe Trail, entering from Osage County in an east to west direction approximately 3 miles north of Admire, Kansas.
The archives' collection includes the following: Black History Resources; Statistical and Census Information; Burial Records and Cemetery Information; Genealogical Information (Family Histories); Yearbooks and Enrollment Information From Area Schools; Military Service Information and War Memorials; City Directories and Newspaper Archive; Photographs of People, Places and Events.