Ocracoke Preservation Society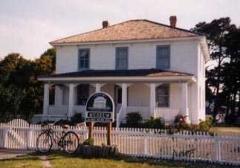 This committee's mission under the Ocracoke Preservation Society is to preserve the area that has been officially identified as the Ocracoke Historic District by the United States Department of the Interior. This area was listed on the National Register of Historic Places in 1990. It has state-wide significance in the areas of Exploration/Settlement and Social History as well as Architecture.
When placed on the National Register, it contained 391 resources: 232 contributing buildings, 15 contributing cemeteries, four contributing structures (the lighthouse and three resource networks: the cisterns, the picket fences, and the docks), 139 non-contributing buildings, and one non-contributing structure (a pool cabana). The period of significance (1823-1959) extends from the earliest still existing resource to the year that Ocracoke entered the modern era. The district spreads across approximately 200 acres (roughly half of the total area) of the village and is mostly concentrated around Silver Lake Harbor.
In 2003, working with a Community Assistance Team from the North Carolina Chapter, American Society of Landscape Architects, a plan was developed for preserving the distinctive landscape on Ocracoke. The plan discussed Ocracoke's uniqueness, maritime forest preservation and enhancement, specific landscape ideas and suggestions, reviewed "Big Picture" issues and ideas, and made suggestions for future management of the village.