Old Manse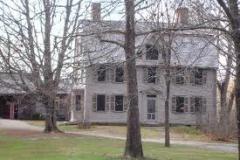 History fills the walls of the Old Manse, from the house's construction in the 18th century to its inhabitance by famous author Nathaniel Hawthorne, whose friend Henry David Thoreau planted a vegetable garden there.
A self-guided tour brings visitors by the reconstructed nineteenth-century boathouse and along the eighteenth-century stone walls lining the fields still kept as pastureland.  A guided house tour unfolds the story of those who lived here, beginning in 1770 with the Reverend William Emerson and including his grandson, Ralph Waldo Emerson, who drafted his essay "Nature" while living in The Old Manse. 
A recreation of Henry David Thoreau's vegetable garden, planted in 1842 as a wedding gift to the Hawthornes, still flourishes in the same location.  The Concord River flows serenely past the Manse and under its neighbor, the North Bridge, site of the famous "shot heard 'round the world" that started the American Revolution on April 19, 1775.
This home contains over 200 years of family furnishings, including a Steinway cross-strung grand piano, eighteenth-century Cantonware, William Emerson's clock, and Nathaniel Hawthorne's writing desk.