Rachel Carson Homestead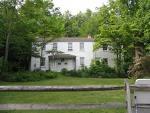 It is here in southwestern Pennsylvania that this little girl, who grew up to become "one of the most influential people of the 20th century," according to TIME magazine, developed her love or nature. The youngest and only child of three to attend college, Rachel Carson was a published writer by age 10. In addition she began a life-long love of the ocean - perhaps inspired by her daily view of the great Allegheny River.
The Homestead is situated in a suburban neighborhood where visitors can tour the four remaining rooms that Rachel Carson shared with her parents, her brother and sister. Standing in her bedroom, you can look through the window as she did and imagine what life was like for her as a young girl in the early 1900s. This was a humble home that had no indoor plumbing and a lean-to kitchen at the back of the house.