Sarah Orne Jewett House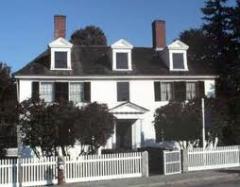 Writer Sarah Orne Jewett spent much of her life in this stately Georgian residence, owned by her family since 1819.
The view from her desk in the second-floor hall surveys the town's major intersection and provided her with material for her books, such as The Country of the Pointed Firs, which describe the character of the Maine countryside and seacoast with accuracy and affection. In decorating the house for their own use, Miss Jewett and her sister expressed both a pride in their family's past and their own independent, sophisticated tastes. The result is an eclectic blend of 18th-century architecture, antiques, and old wallpapers with furnishings showing the influence of the Arts and Crafts movement.