Wayne County Historical Museum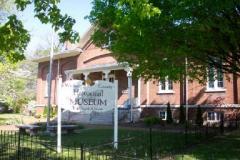 The museum houses several unique exhibits including period clothing, furniture, portraiture, two log cabins of local origin, a genuine Conestoga wagon, a blacksmith shop, print shop, bakery, loom house, a superb collection of early Richmond made automobiles, steam powered tractors, the first Davis airplane manufactured in Richmond in 1929, and other artifacts pertaining to Richmond's industrial heritage. On display are fine art objects from around the world collected by the museum's founder. There is also a choice collection of Native American artifacts including both modern and ancient pottery of Hopi, Zuni, Pueblo, Anasaziorigins.
Perhaps the most popular exhibit in the museum is the recently updated gallery dedicated to telling the story of Life and Death in Ancient Egypt. A 3000-year old mummy is on display along with his beautifully preserved and exquisitely painted coffin. Surrounding the mummy are 12 display cases filled with objects that were used in every day life but also preserved in tombs for their owner to use in the afterlife.