Adaland Mansion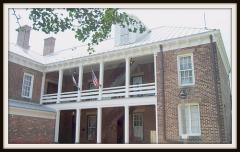 An elegant 1850s plantation home restored to give visitors an authentic picture of 19th Century rural life.
This stately brick home at Philippi, West Virginia is set against the rolling hills of Barbour County and was built in 1870. The mansion house has been restored with great attention to authenticity for the period of the house. Featured are the homemade brick and the walnut woodwork throughout the house. The barn built approximately 1850 has recently been restored and is open to the public on weekends during tour season.
The house and land reflect the early history of West Virginia with the original owners engaged in farming. Emancipated slaves from the farm worked on the construction of the house. The surrounding area is rich in civil war history with the first land battle of the war fought in Philippi in June 1861.