Magnolia Grove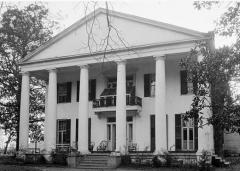 Nationally significant as the boyhood home of Spanish-American War hero and U.S. Congressman Richmond Pearson Hobson, Magnolia Grove is a Southern archetype – what many tourists expect to see in the Deep South. As Hobson's house, however, it presents a more fully-rounded interpretation of our complex regional history. In addition to his military fame, he was a Progressive-era politician who championed women's rights and civil rights, as well as a national leader in the fight against alcohol and drug abuse.
Magnificent magnolia trees and a beautiful boxwood garden surround the home. The mansion is filled with original family furniture and the walls are lined with portraits of the Croom and Hobson families. The site includes a detached kitchen and a slave house.
Magnolia Grove is a historic house museum located on 15 acres at the west end of Greensboro's historic district. The Greek Revival home was built around 1840 by Colonel Isaac Croom. It is also the boyhood home of Richmond Pearson Hobson, a Spanish-American War hero and a progressive statesman.
Photo courtesy of Library of Congress.