Andersonville National Historic Site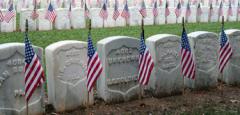 Camp Sumter, commonly called Andersonville, was one of the largest military prisons established by the Confederacy during the Civil War. In existence for 14 months, over 45,000 Union soldiers were confined at the prison. Of these, almost 13,000 died from disease, poor sanitation, malnutrition, overcrowding, and exposure to the elements. The largest number held in the 26½-acre stockade at any one time was more than 32,000, during August of 1864. Today the beauty of the prison site belies the suffering that once took place inside the stockade.
The exhibits in the National Prisoner of War Museum serve as a memorial to all American prisoners of war. The museum opened in 1998 and is dedicated to the American men and women who have suffered as POWs.
The cemetery is the final resting place for those who perished while being held as POWs at Camp Sumter. It is now a National Cemetery, serving as a honored burial place for present-day veterans. The National Park Service maintains fourteen National Cemeteries nationwide. Only two of these, Andersonville National Historic Site and Andrew Johnson National Historic Site are classified as active, continuing to bury veterans and their dependents.
American Heritage: "Prison Camps of the Civil War" by Bruce Catton