Carver County Historical Society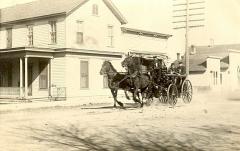 The Carver County Historical Society features five local history galleries and a gallery honoring veterans. The local history galleries are primarily thematic and tell the story of Carver County's heritage.
Some highlights include: Verteran's Gallery, honoring America's veterans and paying special tribute to Carver County's verterans, Choosing Carver County, the history of immigration to Carver County, the natural and agricultural history of the county and items such as fashion and tools from the past.