Cass Scenic Railroad State Park And Museum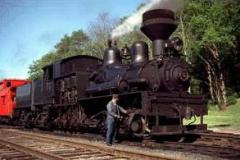 Nestled in the mountains of West Virginia, Cass Scenic Railroad State Park offers excursions that transport you back in time to relive an era when steam-driven locomotives were an essential part of everyday life. Trips to Cass are filled with rich histories of the past, unparalleled views of a vast wilderness area, and close-up encounters with the sights and sounds of original steam-driven locomotives.
The town of Cass remains relatively unchanged. The restored company houses now rented as vacation cottages, add to the charm and atmosphere of the town.  The museum features logging artifacts and tools, sawmill equipment, Civil War artifacts, photographs and other historical items related to the history of the area.The locomotives are the same Shay locomotives used in Cass, and in the rainforests of British Columbia for more than a half-century. Many of the passenger cars are old logging flat-cars that have been refurbished.