Colorado Springs Pioneers Museum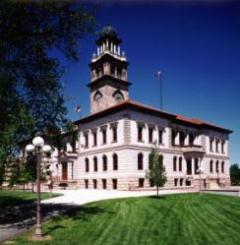 The Museum has over 40,000 objects in its collection including nationally significant collections of quilts, Van Briggle art pottery, plus the finest regional art collection in the state of Colorado. The Native American collection includes hundreds of items representative of the Ute, Cheyenne, and Arapaho cultures. A portion of author Helen Hunt Jackson's house is reconstructed in the Museum, furnished with her original possessions.
Other collections relate to the founding of the City, the area's mining and agricultural history, its early prominence as a health resort, and its more recent significance as a center for military training and operations. A major attraction in the museum are the murals, by local artist Eric Bransby, which depict the story of the Pikes Peak Region from early human occupancy to the building of the Air Force Academy.