Coral Castle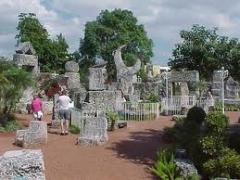 A garden of carved stone, baffling in its construction, is the work of the reclusive Ed Leedskalnin.
The grounds of Coral Castle consist of 1,100 tons of stones found in the forms of walls, carvings, furniture and a castle tower. While commonly referred to as being made up of coral, it is actually made of oolite, also known as oolitic limestone. The stones are fastened together without any mortar-- they are simply set on top of each other using their immense weight to keep them together. However, the craftsmanship detail is so skillful that the stones are connected with such precision that no light passes between the seams. The eight foot tall vertical stones that make up the perimeter wall have a uniform height. Even with the passage of decades and a direct hit on August 24, 1992 by the Category 5 Hurricane Andrew, which leveled everything in the area, the stones have not shifted.
The furniture pieces included are a heart-shaped table, a table in the shape of Florida, twenty-five rocking chairs, chairs resemblingcrescent moons, a bathtub, beds and a royal throne. A 30-minute audio tour is available to visitors as well.